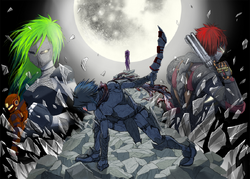 Xionic Madness is an animated series created by Xionico based on the Madness Combat series developed by Krinkels. Xionic Madness has a similar art and character design to Madness Combat and even features cameos from several Madness Combat characters. Each episode is usually released every Madness Day (September 22), a day on Newgrounds that commemorates Madness Combat.
The series follows Bolverk Squad a four man squad comprised of three cyborgs (Omega, Xero and Askad) and one robot (Kareleinne-08). The Squad is sent on a mission to BIO INT to terminate XV, a hostile alien entity BIO INT are researching to develop new weaponry.
Ad blocker interference detected!
Wikia is a free-to-use site that makes money from advertising. We have a modified experience for viewers using ad blockers

Wikia is not accessible if you've made further modifications. Remove the custom ad blocker rule(s) and the page will load as expected.